Search Tyres by Vehicle Registration
Are you looking for Tyres Size for your vehicle?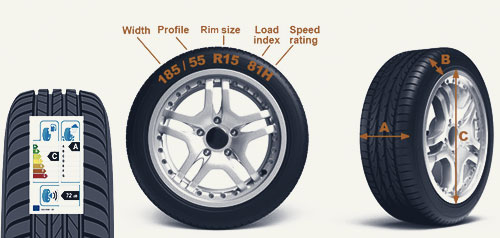 Selecting the right tyre among various tyre brands can be a hassle. The tyre you will purchase will affect numerous factors in your vehicle such as fuel efficiency, handling, braking and more!
Inter Car & Van LTD provides a wide range of new tyres marked with an alphanumeric code on the sidewall. This code is also called the tyre code and will help you find the right car tyre based on your driving style and preferences.
Here is how to read your tyre code:
Let's take this Tyre size as an example 195/70 R16 82H
195: The initial three numbers of the code indicate the width of a tyre in millimeters. The width is calculated from sidewall to sidewall and commonly ranges somewhere between 125 mm to 335mm.
70: The following two numbers after the width indicate the aspect ratio. The aspect ratio refers to the height of a tyre in relation to the width. If the aspect ratio is 70, it signifies that the height of the respective tyre is 70% of its width.
R: The letter R on a tyre stands for radial construction. Other markings on the sidewall include B as the bias belt and D as diagonal.
16: The number after the construction symbolizes the rim diameter in inches.
82: After the diameter, the following numbers signify the load index of the tyre. Simply put, the load index is the maximum weight that a particular tyre can support at the highest permitted speed. If a tyre has a load index of 82, it can carry weights of up to 470kg.
H: The last letter indicates the speed index. The letter refers to the maximum permitted speed of that particular tyre. It is advisable to purchase a tyre with a speed index equal to or more than the top speed of your car.
Other types of Tyres Northampton markings:
SSR: The SSR code indicates run-flat tyres. RFTs feature reinforced walls that help during sudden pressure loss.
M+S: These letters mean Mud and Snow. This sign symbolizes that the tyre can perform well on muddy and snowy roads.
DOT code: The DOT code reveals information about where the tyre was produced.
45/2021: The last four digits refer to the week and the year the tyre was produced.
For Tyre size Cheap tyres Northampton visit us at Unit 1, Letts Road, Northampton, NN4 8HQ.
Feel free to call us at 01604372007 if you have any queries or email us on office@intercarandvan.com.